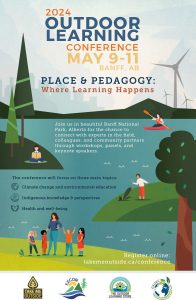 Make plans to join the 2024 Outdoor Learning Conference at the world renowned Banff Centre from May 9-11, 2024!
The overarching theme for the 2024 Outdoor Learning Conference is "Place and Pedagogy: Where Learning Happens". This year's Conference will continue to focus on Indigenous Ways of Knowing, Health and Wellbeing and Environmental and Climate Change Education.
You'll hear from experts in these fields through keynote presentations, panel discussions and hands-on, educational workshops. Take Me Outside, The Canadian Network for Environmental Education, Global Environmental and Outdoor Education Council, and the Outdoor Learning Store are proud to host this conference and hope that you are able to come and build community through inclusion, inspiration and ideas.