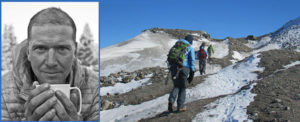 Student Conservation Corps & Congress
10 DAYS LEFT – APPLY BY MAY 15th!
Student Conservation Corps & Congress (Sc3)
Premier Environmental Leadership Training for High School Students
Meet FORREST McCARTHY
Come to Sc3 and hear about his
remote adventures and climate research
"Whether by foot, rope, ski, mountain bike, packraft, camera or pen, my passion is the exploration, conservation, and celebration of big wild landscapes."
Exploration inspires Forrest McCarthy. A geographer by education, he seeks big adventures in remote, wild landscapes. Forrest advocates for and has worked to protect the wild places in which we play through Winter Wildlands Alliance and the American Packraft Association, among others. Additionally, he has spent over 20 years working for the United States Antarctic Program and continues to take part in climate research in the polar regions. His Facebook page.
Check out our other exciting plenary speakers:
WHEN: June 25 – July 1, 2017
WHO: Current 8th – 11th Grade Students
WHERE: National Conservation Training Center, Shepherdstown, WV
Includes 6 nights, all-inclusive room & board
(Financial assistance and fundraising toolkits are available)
Deadline to apply is May 15th!
Participants spend a week learning from world-renown experts as well as studying and discussing environmental, social, and economic interconnections to address conservation challenges affecting their generation. While at Sc3, students design Action Plans to implement in their schools, homes and communities. Sc3 Fellows learn a range of skills such as public speaking, teamwork, problem solving, critical thinking, inclusivity and conflict resolution.
Teachers – Nominate students to represent your school.
Download and share Sc3 information with your students: Flyer • Poster • Brochure
LEARN MORE ABOUT Sc3