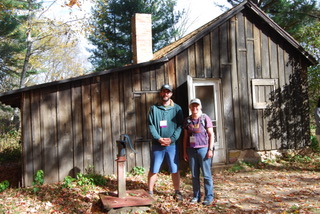 Taylor and Sue at Aldo Leopold's "shack" in the Sand Counties region of Wisconsin. br>
This was one of the field trips at the NAAEE conference. br>
WyAEE was represented at the 2016 NAAEE conference by WyAEE board members Sue McGuire, Dusty Downey, and Taylor Phillips. It was an extraordinary experience to mingle with environmental educators from around the world. Taylor and Sue attended an all-day EECapacity Summit that was the culmination of 5 years of work funded by the EPA through the EECapacity grant. NAAEE affiliates shared what they had accomplished in those 5 years, including diversity and inclusion projects, EE certification, and professional development. Out of these accomplishments will grow the next phase of capacity building in EE as NAAEE begins the new 5-year EPA grant, called EE360.
Sue, Taylor, and Dusty were joined by Evert Brown of Casper College and Leslie Cook from the Teton Science Schools in meeting with other affiliate leaders to learn more about EE certification. It was a great opportunity to hear from other states and learn from their experience.
Next year the NAAEE conference will be in San Juan, Puerto Rico. We look forward to taking another contingent of Wyoming environmental educators.