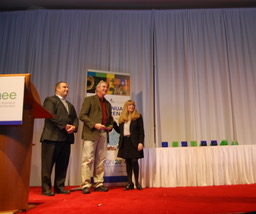 Higher Education Educator of the Year
Dr. Brown has many accomplishments, but the most impactful has been the work he did founding the Casper Mountain Science School. This was a collaboration between Casper College and the Natrona County School District. Starting in 2010 it has grown to a program that brings grade-school students to CMSS throughout the school year. From 2010 to 2016, more than 5,000 local students have participated in multi-day and one-day programs.
Field programs at CMSS are taught by Americorps interns that are trained by Dr. Brown and a colleague from the Natrona County School District. These interns have provided over 32,000 hours of service teaching at CMSS. They come from across the US, but also from abroad. Dr. Brown has trained 69 interns so far and is working with WyAEE to create an environmental educator certification program to provide these instructors with professional credentials.
Dr. Brown teaches college field courses at the CMSS facility including Winter Ecology and Life Science for Teachers. Casper College students in both life sciences and education have the opportunity to teach at CMSS. Over 70 college students have gained field-teaching experience as part of their coursework.
Dr. Brown's commitment to providing experiential environmental education to students, to training teachers in EE curricula, and to training new environmental educators has resulted in a major increase in EE in the state. He has received numerous teaching awards, including from the Murie Chapter of Audubon, the Wyoming Dept. of Education, the Roger Tory Peterson Institute of Natural History, Casper College, the Univ. of Wyoming, and the Wyoming Dept. of Game & Fish. He helped in the creation of the Wyoming Alliance for EE and continues to collaborate on projects with WyAEE.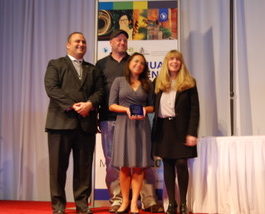 Outstanding Service to EE by an organization at the regional level
Audubon Rockies Community Naturalist program reaches nearly 12,000 people every year across the Rocky Mountains with a diverse array of educational programs and citizen science opportunities Audubon Rockies has positively impacted the region since its inception in 2004. Through teacher training's, K-12 education, and numerous community presentations and workshops, Audubon has been an integral part in the approach to draw out the vital connections between communities in Wyoming and Colorado and the surrounding landscape.
The Community Naturalists traditional environmental education programs help the teachers and the students meet critical science education standards as well as individual student needs and interests by providing in-class and field study experiences using, nearby school yards, parks, ponds, rivers, lakes, and the surrounding ecosystems unique to the region.
During the summer months, the Community Naturalists organize several activities and local camps and we also organize three bird banding stations that many young people and bird enthusiasts attended.
The Community Naturalists also provide "Traveling Trunks" free of charge to teachers, informal educators, and organizations to help encourage students' knowledge and interest in science, particularly about their local environment. Each trunk is full of lessons, field studies, specimens and supplemental materials for interactive programs that give students "hands-on" experiences outside the standard science curriculum for grades 1-8.
Our Community Naturalists also connect with the agricultural and ranching communities of Wyoming and Colorado by hosting regular workshops and by being a resource for sound wildlife and environmental knowledge. Our Conservation Ranching programs aims to conserve a network of large, intact, and fully-functioning grasslands across the Northern Great Plains.